The wind turbine converts the wind's kinetic energy into electricity.
Most modern small wind turbines use a permanent magnet alternator or induction generator
to accomplish this. Once the electricity leaves the turbine via the "down tower wiring,"
where it goes next is determined by the type of system it's connected to.
For a residential grid tie system
, the electricity is processed to make it compatible with utility
standards, then fed into the household wiring at the breaker panel. This point of interconnection is
where the power from the turbine "blends" with the utility power. From there it will flow into the
home or out onto the utility grid, depending on the following conditions.
During periods of low or no wind, power is being purchased from the utility. As the wind speed
increases, the turbine power production increases, reducing the amount power purchased from the utility.
When the turbine output surpasses the home's electrical needs, the excess flows out to the utility grid
and a credit is generated. This credit system is known as net metering and more in-depth information
may be found on our Net Metering Page.
For more information on the NY State wind incentive program please visit NYSERDA
For turbines used in off-grid homes the electricity flows to a controller, where it's converted to DC (direct current),
regulated and used to charge batteries. These batteries are used to power one or more inverters, which in
turn provide standard 120/ 240 volt AC current for the home's appliances.
For a more in-depth explanation of how off-grid systems work, please visit our Backup Power Page.
Turbines used for water pumping:
Although wind electric water pumping systems are in use all over the world, we have not found them
to be cost-effective for most agricultural applications in NY and PA. The wind in our region is at it's lowest
when you need the water most, just the opposite of solar energy.
---
Reliability

New York is notorious for turbulent wind sites that will chew up and spit out poorly designed wind
turbines. Those of you that know me, know I tend to be a bit intense on this subject, so I'll try to
keep it short!

* Not all turbines are created equal! They are man made and have moving parts…buyer beware!
* Do your homework!! Just as you would if buying a car or home appliance
*Heavy metal is a good thing! A heavy machine will typically outlast it's lightweight counterparts
*Slow is also a good thing! Low RPM machines have significantly less maintenance and longer life
than low cost/ high rpm turbines. 175-500 rpm good…500+ not so good (and noisy too!)
*You get what you pay for! Low cost turbines are great for small cabins and hobbyists. What do you
want... expensive lawn art or a reliable, cost-effective, long term investment?

---
Maintenance

* Low maintenance does not mean no maintenance
* Inspection (and possibly maintenance) every 1-2 years. Inspection includes mechanical and
electrical connections, checking for corrosion, guy wire tensionioning, inspect blades/replace
leading-edge tape, etc.
* Beyond 10 years blade or bearing replacement may be needed
* Typical annual maintenance costs are typically 1% to 2% of installed cost
* Lifetimes of 10 to 20 years and more with the appropriate turbine, proper installation and regular maintenance

"A wind turbine may see as many operating hours in one year as an automobile will in 200,000 miles!"

---
It's amazing how many people will pay good money for a small wind turbine and then install it on a
short tower where it's starved for wind. You wouldn't starve an automobile for fuel and expect it to
perform properly, so why expect that from your wind turbine??
It's actually quite simple:
wind speed increases with height

.
Wind speed is affected by friction against
the earth's surface, so the higher up the turbine is, the more fuel it has to work with. It's not uncommon
to see a 5-7% increase in energy production for every 20 feet of additional tower height above
80 feet. And the additional cost for that extra height is only about 2 to 3%. Over the life of the system,
that adds up to a lot more energy produced and a much better return on your investment.
FYI: Betz's law states that the energy content of the wind varies with the cube of the average wind speed.
Simply put: double the wind speed and you increase the energy 8 times. Tower height is critical!!
---
Siting
Another reason to avoid short towers is turbulence. When wind encounters obstructions such as
trees and buildings it becomes turbulent. As this illustration shows, the turbulent zone extends well
beyond the obstruction. A turbine installed within this zone will give poor performance. The turbulence
will also stress the machine and tower, increasing the maintenance and decreasing the turbine's lifespan.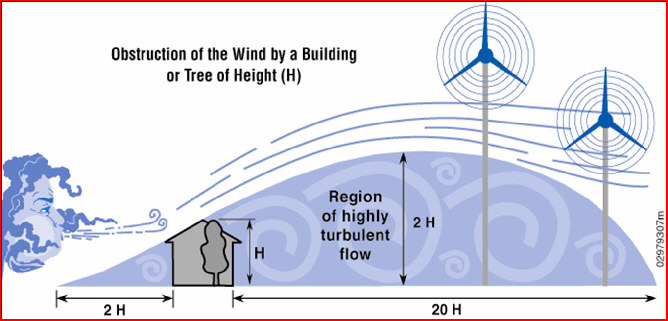 Site a turbine a minimum of 30 feet higher than obstructions within 500 feet, even higher
if those obstructions are young trees!

"Trees will grow but the tower never will!" Mick Sagrillo

Guyed Lattice Tilt Up Self Supporting or SSV
The

guyed lattice tower

is the most economical for mid-sized turbines (5-10KW). This tower is shipped
in sections, assembled on-site, turbine and wiring installed and a crane used to lift the completed
assembly into place. The 100' and 120' versions are the most popular.
The

tilt up tower

is typically used on smaller turbines up to 5KW or so. And yes, there are larger
turbines on tilt ups out there, but they are not very cost-effective option. This type of tower usually
consists of pipe or tube held together with couplers, with guys at each coupler.
A gin pole provides the leverage for raising/ lowering via a tow cable and pulley system.
The tow cable is pulled with a winch
or tow vehicle.
The

self supporting

3 legged tower is the industry standard for turbines 10KW and up.
This tower is assembled on-site and placed onto it's foundation by a crane. Of the 3 tower types shown here, this is
the most expensive. When used with the larger turbines, it is still a cost-effective option.
---
Zoning and Permitting
This subject is probably the most complicated of all. NY State is a home rule state with no
standardized zoning ordinances. Each municipality has it's own unique zoning and land use regulations.
The first step in any small wind project should be to find out if your town has any wind specific ordinances, tower height
restrictions or anything else which might impact your project. A large number of potential
wind projects stall at this point due to zoning and permitting barriers.
At some point I will post more detailed information on this subject, but right now I have other walls to
beat my head against!