How prepared are you and your family for the next power failure?
Are you prepared for outages lasting more than a day, a week or even a few weeks? From electric
generation shortages to weather extremes wreaking havoc on our aging power distribution system,
we've entered an era of great uncertainty with regards to the reliability of our electricity supply.
Consider recent events in several regions of the country which caused widespread power outages
lasting from several days to several weeks! There's really no good way to predict when an outage
will occur or how long it will last. But there are things that you can do to prepare you and your family
for the uncertain times ahead. Prudent preparation is always the best insurance against the unknown.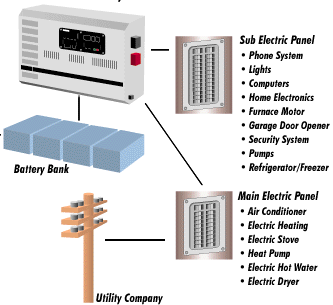 The best way to ensure reliable and continuous electric service is with a Four Winds Back-up Power
System. In the event of a utility blackout or brownout, a Four Winds Backup Power System provides
power automatically, instantly and silently from it's storage batteries. While others remain in the dark,
your electricity-dependant devices continue to function, shielded from power failure by state-of-the art
power technology. When a gasoline, diesel, LP or natural gas generator is coupled to the powerful
battery charger built into the system, the batteries can be recharged as needed to provide reliable
backup power during extended power outages.



=

The following is a discussion about extending the capabilities of a backup power system by using
Renewable Energy power sources. This discussion is therefore quite relevant for those wishing to
skip the backup power step and go straight for energy independence!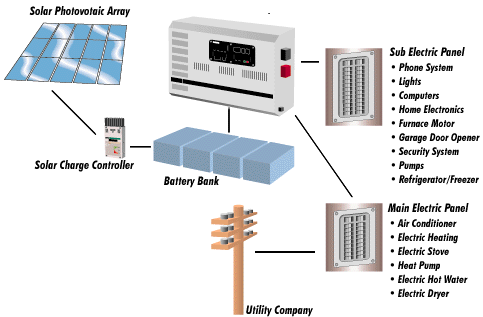 Solar panels, wind generators and micro-hydroelectric turbines can be added to these backup power
systems to re-charge the batteries. The components which make up an inverter/ battery backup system
are the same as those used in most renewable energy systems. Add a backup generator as well and
you've created a highly versatile independent power system which has the potential to eliminate the
need for grid power altogether! No more power outages OR electric bills!



The batteries in a properly sized backup system can provide enough emergency power for several
hours or even days of operation. This is usually quite sufficient for dealing with the average power
outage which typically lasts less than a day. But what about extended power outages caused by
hurricanes, tornadoes, ice storms, blizzards, floods or any other major disruption of the power grid?
This is a relatively easy question to answer because the batteries in a backup power system can be
re-charged in several ways...

The most popular option is to use a standby generator to power the inverter's internal battery
charger. Running the generator for a few hours each day keeps the batteries topped off and provides
full time power. This is a great low-cost method for extending the basic backup systems' capabilities.
But what happens if the fuel runs out or the generator dies? Remember, we're talking about extended
power outages that may last for days or even weeks....
Good question? Read on.......

Another option that's growing in popularity is adding solar power. Solar modules produce
electricity directly from sunlight and several modules connected together are called an array.
Depending on the size of the array (sized to your power needs), solar can provide you with some,
most or even all of your electrical power. Every place on Earth receives sunlight, some more than
others and this fact has a direct bearing on how much solar power potential can be expected in your
neck of the woods... this solar data, called "insolation", is essential for accurate array and
battery sizing.

Bottom line...adding solar power to an inverter-battery system will help replace the power drawn
from the batteries and this helps minimize or possibly eliminate that generator usage! And with
module lifespans of well over 20 years, solar is a good investment for today AND for the future.

Yet another option is to add wind power. Wind generators have come a long way in the last few
years with most types now requiring little more than periodic inspection and often with lifespans of
20 years or better. Wind power is very site specific and not for everyone, especially in urban areas
where zoning and picky neighbors usually prohibit it's use! Wind data for NY State is available at the
Small Wind Explorer. Wind generators have the potential for producing power day or night and
have the lowest cost per watt
of all the renewables. Bottom line...if your site supports it, wind power
is a cost effective addition to your backup system and like solar, a good long term investment.

By adding solar or wind to your backup power system you've created you're own independent
power system. By the way...you can add more than one type of renewable energy to your system.
Solar and wind are a great combination and what we recommend for use in the Northeast where the
summers tend to be sunny and not so windy...winters just the opposite. These types of systems which
utilize more than one power source are called "hybrid" power systems. Utilizing a hybrid power
system is a good way to deal with the seasonal highs and lows of power production of a solar only
or wind only system.

Independent Energy = Immunity from power outages and electric bills!

The 5 steps of system sizing for off-grid and backup power:
1) Load Use Evaluation: Think of this as an inventory of your electricity usage. A list is made
of all your electrical appliances, their wattage ratings and their hours used each day. The wattage
ratings are multiplied by the hours used each day to determine the total power consumed daily by
each appliance (stated in watt-hours). These daily totals added together equal your total daily
electricity usage.

This total is one of the most important tools we have for designing a properly sized system to
meet your power requirements. Everyone uses electric power differently ...only you can determine
your usage. A load evaluation also helps pinpoint inefficient appliances and wasteful usage habits.
2) Energy Efficiency: For anyone using or considering the use of a renewable energy power system,
the importance of energy efficiency can't be stressed enough! Every $1 spent on energy efficiency
saves $3 to $5 on system costs...the lower your power needs, the smaller the system needed to provide
for those needs. The purchase and use of high efficiency appliances, compact fluorescent lighting and
other low-energy or non-electric appliances is an extremely important step in this process. Switching to
gas or other alternatives for heating, cooking and clothes drying will drastically reduce your energy
consumption and therefore system size and cost.
3) Conservation: Lower usage = smaller more cost-effective power systems. Don't leave the
coffeemaker on all day or the lights on all night. Does it really make sense to use a 4000 watt electric
oven for 45 minutes (using 3000 watt-hours) to heat 2 frozen burritos? An 800 watt microwave can do
it in about 5 minutes and only use about 67 watt-hours!

What's lurking in that huge chest freezer or refrigerator? Do you need one that big? And don't forget
"ghost" loads...TVs, radios, computers and all those little power adapter cubes plugged in everywhere
are prime examples of parasitic "ghost" loads. Many of these can be eliminated or plugged into
switchable power strips to be turned on only when needed, saving hundreds or even thousands of
watt-hours per day!

There really are ways to reduce your electric usage without having to live like a refugee- many have
done it! It's well worth the effort and you'll be amazed at the savings in system cost.
4) Site Evaluation: If you're planning a renewable energy system, your site's energy potential should
be evaluated. For wind: historic wind data, elevation, potential wind generator locations, nearby
obstructions to wind flow and the proximity to buildings, property lines and roads are all considered.

For solar: historic solar data (insolation), module mounting locations and potential shading problems
are evaluated. For hydro: vertical drop (head) from water source to turbine (10' minimum required),
gallons per minute available, distance from water source to turbine and seasonal variations of water
source are some of the things considered. This information is then used to determine which power
source or sources are viable for your location and cost-effective for you.
5) System Location: For both renewable and standby installations there are many factors that
determine the power system location. If the system includes a backup generator then we must consider
which fuel type is best, access for fueling and maintenance, engine exhaust routing, soundproofing, fuel
storage, and above all...safety. If we're using lead-acid batteries, they're typically installed in a sealed
battery box which must be vented to the outdoors and not located more than 4-5 feet from the inverter.
The inverter, batteries and control systems do best in a dry, heated or semi-heated area.
A utility or spare room is ideal, basements are OK if they're dry. Power sheds are acceptable with
proper insulation and ventilation.
For power system sizing, there's no substitute for accurate information....without it we're only guessing!
Installation: Our backup power battery/ inverter systems are also the "heart" of most renewable
energy systems. This means that you can install the battery/ inverter system and use it as a backup
power system. If there's no utility power available, you can also use it as a generator/ inverter
independent power system, using a generator to recharge the batteries. You can then choose to add
wind, solar and/ or micro hydro power at any time in the future. Some folks choose this "modular"
method for budget reasons and others to allow themselves more time to become adjusted to a more
energy efficient and sustainable lifestyle.
We're here to guide you through the entire process, from load evaluation to installation....there's no
need to be intimidated by the process!

For a blank load evaluation form, please visit our Downloads Page.

---
Four Winds is a full service Renewable Energy dealer. We're here to provide complete system sizing,
sales and installation services to all our customers. We also work closely with our homeowner/ installer
customers to assist them with their own installations.

---
"We use this stuff ourselves...we know first hand what works and what doesn't. We'll give you honest
answers to your questions and be here for you long after the sale. Renewable energy's not just our business,
it's our lifestyle. Contact us today so we can get you started on the road to energy independence."
Roy Butler, Owner of Four Winds


Thanks for dropping by!
This website was created with solar and wind power!
© 2012 By Roy Butler